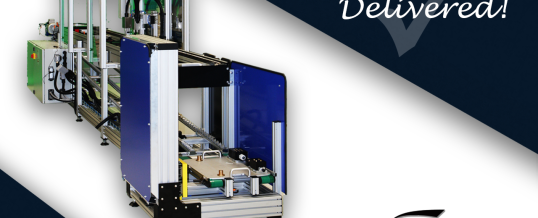 Last week, June 28th 2019, we at Risatti Instruments have successfully delivered another P15 automatic testing machine, made exclusively for electric gates gearmotor examination and testing.  As always, it carries within itself years of tradition developing machines that range all levels of electronical and electrotechnical productions, being small, medium or large sized.
Nice SPA has received the tailor made last generation model of the P15/NCP.SG, born in 2011, that is based in a structure that foresees an interaction between a computer program software, also developed by us, which manages measurement graphically and a PLC to e which the task of commutations and automation is entrusted.
This model has some unique characteristics.  Its breaks are the ACTIVE type, compensating frictions in the reduction units and, most of all, has the capability to simulate the actual work conditions of the gearmotor.  Its bench predicts horizontal loadings (regarding the front of the testing system) of the motor being tested on a special support cradle. Its toothed pinion insertion, as well as of its terminal part of the rotary gearmotor, which contains its mechanical connection's interface, is performed manually by the operator by means of the appropriate interchangeable interface, which can be adapted to several constructive gearmotor variations.
Our innovative strategy of subdivision of operations reduces time of testing substantially, being also technologically trustful and innovative, as all Risatti's machinery.